Every week, I work towards creating a life of art for myself. This is the zigzag filled journey.

Play along in the comments with your own pursuits if you'd like. (That's where I'll cheer you on.)
*******
I'm reminded yet again this week that when I really push myself to meet a deadline, even if it's only self-imposed, that once it's done, so am I. At least for a while. Sort of fell out of my intended groove with the beginning of February.
This week, I
Shot 236 photographs. Icicles, snow-covered creek, strategic sculptural snow accumulations. I waded through thigh deep snow to get some of these. (Next time someone suggests snowshoes, I will not dismiss it out of hand.)

I also set up a mini studio shoot of sorts for myself. 7 possibles but I think I can do this better so I will reshoot. I'd rather fix in camera than in post. Next time I will trust my instincts- some of the things I plan to change, I'd sort of already considered without quite knowing why.
Changed Rocklawn Arts store intro sale notice:

Forget January, start your calendar with any 2011 month!

Get 50% OFF All Calendars until March 1, 2011 at 11:59PM PT. (Click the "Date style and options" in the sidebar to change your starting month.)

Use code: DONTWAIT2011
Made Epimedium Flowers necklace: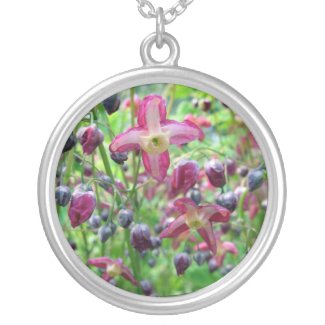 Epimedium Flowers
by
RocklawnArts
View more
necklaces
on Zazzle.
Finished my html coded products links file. Huzzah! It'd only be better if I'd thought of making it sooner.
Finished revising the product descriptions of the remaining 28 product lines and 7 calendars with streamlined tags and related products image links. WOO!!! Hmm, doesn't look that impressive written like that. There was lots of coding involved, figuring out spacing nuances, and redoing spacing for product lines I'd already revised. Most notably, I met my goal of finishing it before February 1st when as late as Sunday night (January 30th), I was seriously doubtful I'd finish.

Here's the unedited version of what I wrote: "Huzzah! So totally done (for now at any rate) with description revisions including OCD spacing nonsense I was tempted to put off all before February 1 with 59 minutes to spare! You're awesome, kiddo!"
Had my Two Chairs Buried in Snow print featured in an inspiration post on the blog, A Drop of Indigo.

Two Chairs Buried In Snow
by
RocklawnArts
View more
Snow picture Posters
Tweeted several sales.
Made new binder templates with Folio Medium for URL instead of Courier. Hang on to both for now and see what I think.
Added Rocklawn Arts link to 5 lenses.
Updated store page on old Rocklawn Arts blog and also added product flash panels to its redirect post, so it's on front page. Since it's still getting hits, why not, right?
Finished reading Petersen's Guide to Architectural Photography.
Finished reading Christo and Jeanne-Claude: Through The Gates and Beyond by Jan Greenberg and Sandra Jordan.
Finished reading December 2010 Popular Photography.
Sent thanks DM with store link to 9 new twitter followers.
Watched "Layer Mask Magic," "Photoshop Cropping Tips and Tricks," "HDR Tone Combining" Photoshop tutorials. Eh, 1st one. 2nd: some useful bits. 3rd: OK.
Read A Photo Manipulator's Guide to Blending tutorial.
*******
How are your pursuits going?
A year ago on TTaT:
Winter water drops
If you liked this post, please share it using the links below.