Every week, I work towards creating a life of art for myself. This is the zigzag filled journey.

Play along in the comments with your own pursuits if you'd like. (That's where I'll cheer you on.)
*******
So, 4 new product types became available for designs this week, but I didn't kill myself adding them to all of my existing designs. I started but I let 47 of the new products be enough. It let me attend to some other things that don't always feel productive but are part of the bigger picture. Felt good to make progress on those. One piece of a longterm project is almost done, yay! Also, the doing felt faster with more downtime somehow. Not sure how that happened exactly but I dig it. More refreshed I suppose.
This week, I
Created a Yellow and Black Chevrons design and product line. I was thinking caution tape, but it seems my new design is more properly reminiscent of hazard tape.

Yellow and Black Chevrons
by
RocklawnArts
Browse other
keepsake boxes
Made 8 templates for new products available in my shop: Throw Pillows, Placemats, Napkins, Kitchen Towels. I'm not going to offer every photograph and design in my shop on these, but the ones that suit them are a fun addition.
Added 47 of the new products as appropriate from my digital designs. More to come!

Wrote a review for my Double Arch stickers.

Yes, I feel a little weird about reviewing my own product, but I mentioned it was my photograph and Zazzle keeps sending me emails to review things I've purchased. Also, they've implemented their reviews in a tremendously inconvenient way. In an idiotic move, reviews for other seller's stickers show up below my product and they will be in the forefront if my product has no reviews of its own. This means there can be bad reviews that have nothing to do with my design below my products. ARgh!

Anyway, I really do like how my stickers came out, so I feel good about recommending them.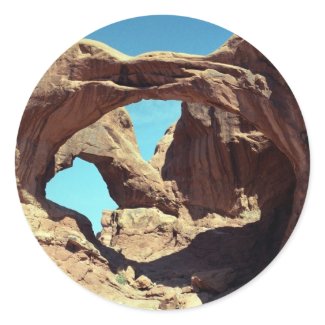 Double Arch
by
RocklawnArts
Join one of the largest
artist affiliate programs
Rearranged Rocklawn Arts store a bit.
Posted 60 products to promotional blogs.
Tweeted a President's Day sale, tweeted and FB'd Red and Black Chevrons and Yellow and Black Chevrons links.
Got my Puffy Clouds On Blue Sky necklace featured on the lens, Soaring High.

Renamed photo files in 4 folders.
*******
How are your pursuits going?
Two years ago on TTaT:
There's only so much weight a tree can hold
Ooh, a video of winter! The ground has been nearly bare most of this winter. May get a bit of snow tonight though.