Let's start with "after" since I'm proud of it. If you've been following my weekly
Life of Art
posts, you know I've been picking up tidbits of Photoshop for ages, but in the past few months I've spent a lot more time learning the program.
I read all of
Photoshop CS5: The Missing Manual
and attended several
Creative Live
workshops on the program. Check out
Photoshop CS5 Intensive with Lesa Snider
,
Dramatic Post-Production with David Nightingale
, and
Beyond Photography with Doug Landreth
for great practical information as well as creative inspiration. Knowing what's possible makes a huge difference in how you view post-production.
If you would care to be amazed, visit David Nightingale's blog,
Chromasia
. It's a new favorite of mine. Just below the bottom right corner of each image is a link called "show the original." Hover your mouse over that to see how far he took the image in post. Flat lighting has never seemed so promising.
I'm excited to see how I can make my photography better with all I've learned.
This week, I made this...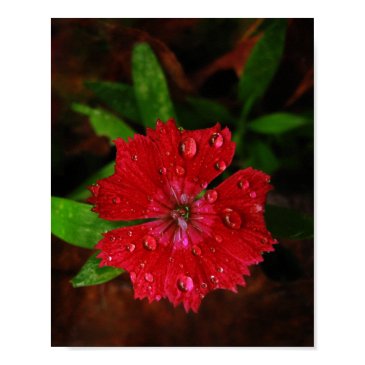 from this:
I used a number of layers to make adjustments to pieces of the image instead of the whole thing. Perhaps most importantly, I asked myself, "Wouldn't it be cool if...?" while looking at my photograph. Thank you for that,
David Nightingale
!
If you like my "after" version, you can check out the
complete collection of Red Dianthus With Raindrops products
in my
Rocklawn Arts shop
.
A year ago on TTaT:
Observations in my parents' kitchen