My concentration has been elsewhere most of this week, the mass murder at Pulse Orlando filling me with sorrow and fury. I channeled that anger into letters to my senators, representative, and the President, calling on them all to establish gun control that would help prevent these now commonplace mass shootings.
Deep breaths.
To the art of the week:
Remade Dare postcard with a vibrant blue background: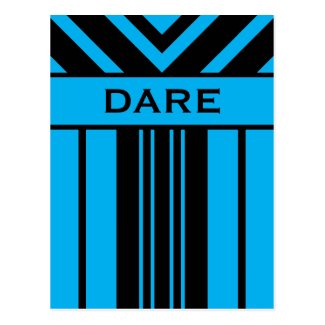 Dare Vibrant Blue and Black Stripes & Chevrons Postcard
by
RocklawnArts
Find other Dare Postcards at
zazzle.com
Rearranged my
collections
a little, putting gay pride stuff up top. I did that last Friday, before the shooting, because it's Pride month.
Selected more photographs for my side project as possibilities.
Deleted 17 photos from 2010, 36 from 2011, 12 from 2015.
I culled 39 products from my store. Updated 2 Powis case descriptions.
Finished editing one gouache painting scan so it can repeat sideways but not up and down. Also continued working on another painting scan in progress so it can be an all over repeat.
Edited four photographs for a father's day gift. Figured out how to get them two to a page but still need to print them.
Discovered two of my products for sale on a site I don't use. Sent DMCA takedown notice and follow up with proof of ownership.
And finally, I shot a ton of photographs (I haven't uploaded them yet) at a beautiful old restored estate with gorgeous gardens and an outdoor sculpture exhibit. It took a while for me to emotionally sink into the place but it did my soul good once I did.
10 years ago on TTaT:
And now for some cacti