I was excited to add a new design to my shop this week. It seemed the glitchiness that'd been plaguing me these past few months was fixed, huzzah! Alas, it's taking longer than usual for the items to publish. Cross your fingers and I'll be able to show it to you next week.
For fun and to celebrate Pride and the Supreme Court's ruling for marriage equality, I made a sheet of Rainbow Bullseye temporary tattoos: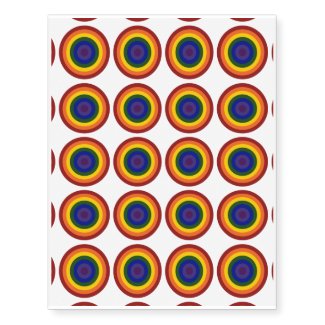 Rainbow Bullseye LGBTQ Pride Temporary Tattoos
by
RocklawnArts
Shop now
for Temporary Tattoos
Revised descriptions for a lot of designs and photographs.
Did some back end organizing in my shop.
Updated LOA files for end of month.
Finished reading Popular Photography March 2015 issue.
Have a Happy 4th of July if you celebrate it!
5 years ago on TTaT:
Sticks and stones...