Every week, I work towards creating a life of art for myself. This is the journey, full of zigs and zags that are collectively, thankfully, progress.

Play along in the comments with your own pursuits if you'd like. (That's where I'll cheer you on.)
*******
This week, I
•Shot 122 photographs from car.
•Prepped and created
Sandstone Fins Close-Up
product line: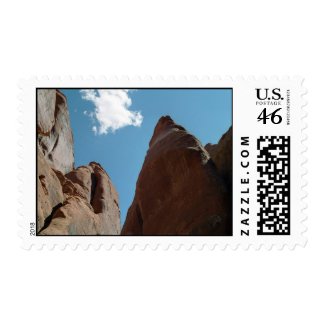 Sandstone Fins Close-Up – Medium
by
RocklawnArts
custom stamps usps
made on zazzle.com
•Added calendar sale info to
my store
intro.
Get 40% off calendars until December 17, 2010 at 11:59 PM (PST) with code: 40CLNDRS2011
Eclectic Nature Calendar 2011
by
RocklawnArts
View other
2011 Calendars
•Made Desert Wave card with customizable "Wish You Were Here" message:
•Picked featured products from categories. Figured out 'top picks' feature and set 3 items. Set
store front
to display featured products rather than newest.
•Added
my store link
to squidoo lens of zazzle tutorials, tips, tricks.
•Made tweaks to my squidoo lenses. 140 pix is good size for 4 products across.
•Watched "Crowd Conversion" webinar.
•Watched "Enlarging an Image" Photoshop CS5 tutorial.
•Watched "Editing Published Products", "Matching products in product descriptions", "Add Zazzle products on your Squidoo lens" tutorials. Read "Posters without huge blank white areas" tutorial.
•Watched some of "Experimental Portraiture with Jeremy Cowart" workshop on CreativeLive.
•Listened to Going Pro #19.
•Listened to Havi's Bohemian Salon teleclass about transitions.
•Tweeted, FB'd,
blogged
a variety of sales over Thanksgiving weekend. I'm torn: on the one hand, I realize that massive sales devalue my work in the eyes of potential customers; but on the other, that's just how Zazzle works. As long as I offer my work through them, I'm subject to their sale whims, so I may as well mention them so as not to be a jerk, right?
•Drew and scanned
1 sketch
.
*******
How are your pursuits going?
A year ago on TTaT:
Hiccups and epistaxis
If you liked this post, please share it using the links below.